We had published one article ago about, how you can track traffic of a specific page in Google Analytics? It will show you how you can create a segment in Analytics to see only reports about one specific page in your website. But one of our visitors asked us, how anyone can track a group of pages in Google Analytics, so we created this post to show you how to do that.
It is similar to the previous post, so we will not start from scratch, instead we will show you exactly what to do after following previous post. Follow the steps below after completing steps in the previous post.
Step 1: Click on "OR" button.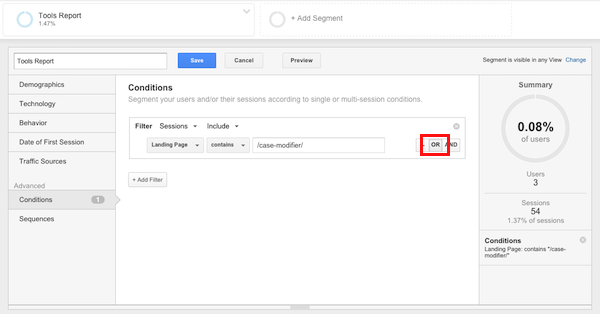 This will let your make a condition as you want to add a Landing page to your query from database. If you want to see same users who had visited your all webpages (Returning visitors) then you can select "AND" button but if you want to see all users who have visited all webpages then you have to select "OR" button.
Step 2: Same as above set the first value to "Landing Page".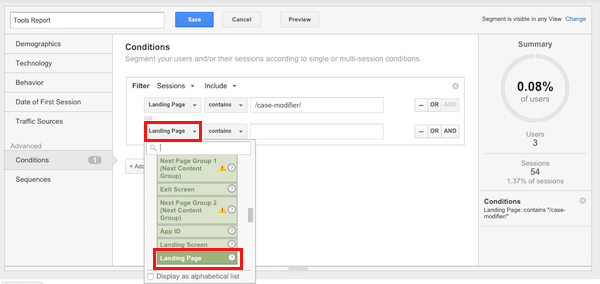 Step 3: If you have added any condition by mistake then you can always remove it by clicking on "–" button as shown in the picture.
Step 4: You can add as many pages you want in one report. After adding all the conditions SAVE the Segment and you will get report of traffic for specific group of pages.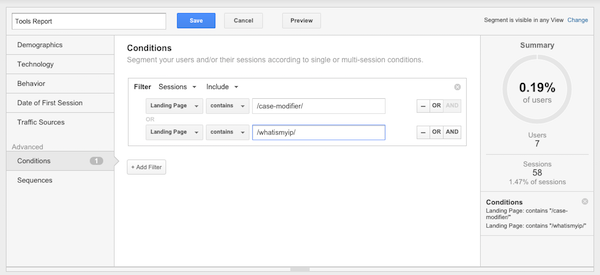 Step 5: That's all.
If you have any query related to this post then feel free to ask in the comment section. We will be glad to help you.
Enjoy & Stay Techie…