Google has just announced more details on Google Stadia service which will have 2 tier options for gamers: Pro and Base. Stdia Base will be released from next year means 2020. Google Stadia Pro will be released from November 2019 in 14 different countries. This article will explain to you the benefits that you will get as a Google Stadia Pro member over any gaming PC that your cousins or friends might have the help you to build.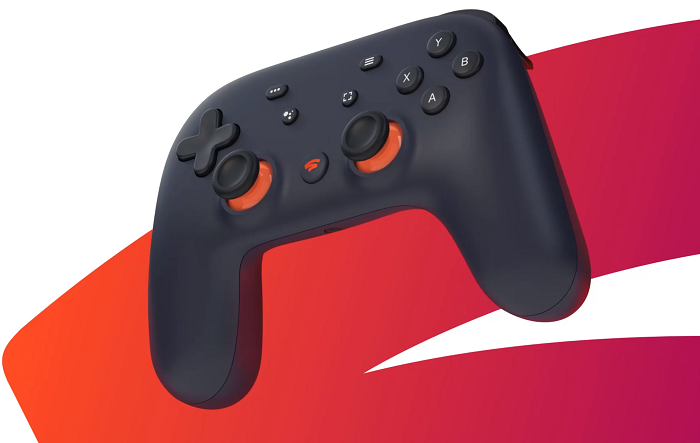 This image shows all the countries in which Google Stadia platform will be released on the first day except Hawaii and Guam. The table shows contry name with pricing related Founder's Edition, Stadia Pro(monthly) and Stadia Controller in their native currency.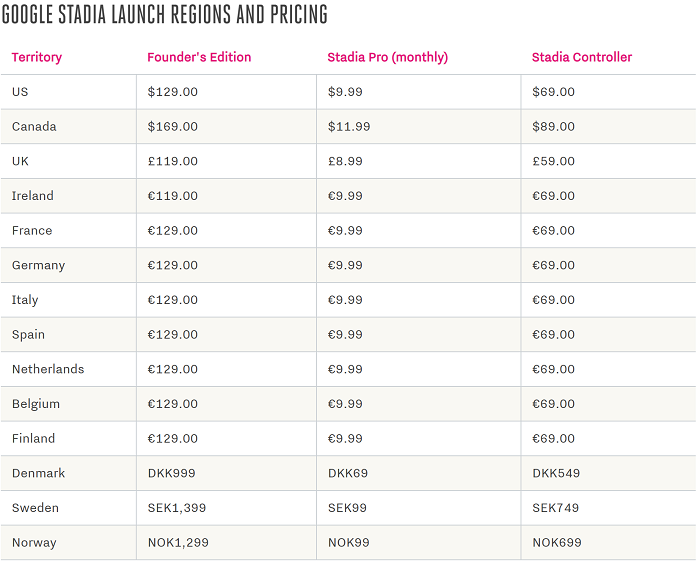 Some more details on Google Stadia platform
Google has specifically mentioned that Stadia will not be a subscription service, where you can just start playing any game you would like. But rather Stadia platform will allow you to play games that you will buy from Stadia platform like other platforms such as PlayStation Network, Xbox Live or Steam. Stadia you won't need any beefy high-end gaming computer to play your games after you purchase them. Google will provide you required hardware power via their insanely fast servers.
Here are the Games that could be on Stadia platform once Google releases the Stadia Pro tier in this November. Don't worry if you can't find your favorite game on this list because Google can definitely add more games easily down the road. Jack Buser – Google's director of games does mention that Baldur's Gate 3 will be released on Stadia platform simultaneously with the PC release. So, in that case, you won't miss any game releases in the future.
Bandai Namco – Dragon Ball Xenoverse 2
Bethesda – DOOM Eternal, DOOM 2016, Rage 2, The Elder Scrolls Online, Wolfenstein: Youngblood
Bungie – Destiny 2
Capcom – TBD
Coatsink – Get Packed (Stadia exclusive)
Codemasters – GRID
Deep Silver – Metro Exodus
Drool – Thumper
Electronic Arts – TBD
Giants Software – Farming Simulator 19
Larian Studios – Baldur's Gate 3
nWay Games – Power Rangers: Battle for the Grid
Rockstar Games – TBD
Sega – Football Manager
SNK – Samurai Shodown
Square Enix – Final Fantasy XV, Tomb Raider Definitive Edition, Rise of the Tomb Raider, Shadow of the Tomb Raider
2K Games – NBA 2K, Borderlands 3
Tequila Works – Gylt (Stadia exclusive)
Warner Bros. – Mortal Kombat 11
THQ – Darksiders Genesis
Ubisoft – Assassin's Creed Odyssey, Just Dance, Tom Clancy's Ghost Recon Breakpoint, Tom Clancy's The Division 2, Trials Rising, The Crew 2
Check this image to know more about the Stadia membership options.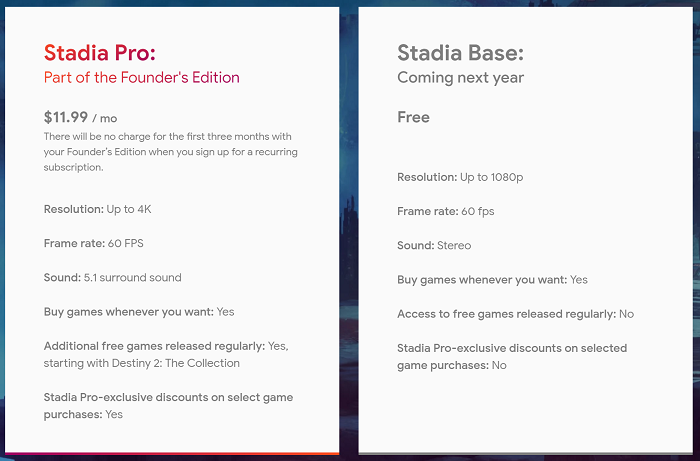 Stadia Founder's Edition Deal – Does it worth it?
According to us, it is a pretty good deal because Stadia controller will retail for $70 bucks once they hit the market. So with this deal basically you get the same amount of gadgets back which is Founder's limited-edition dark blue version of Stadia's cool controller, a Chromecast Ultra and 3 Months of Stadia Pro subscription. You also get a buddy pass that you can share with your friend to play games together.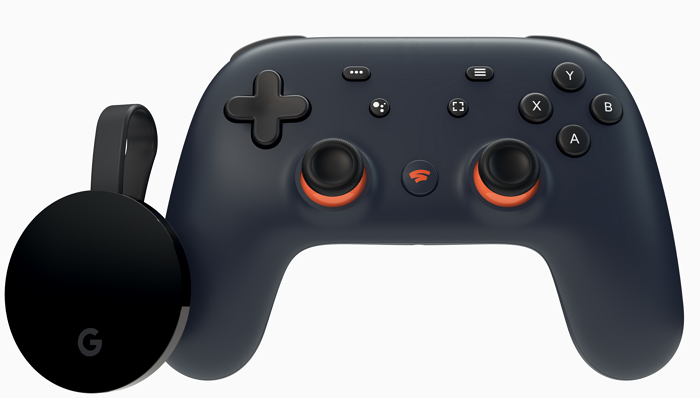 This means that Google has somehow managed to launch kind of its own gaming console with less than the price of PS4 or Xbox One. Check this limited edition controller that you will especially get in this deal with a Chromecast Ultra. If you might miss the Founder's Edition deal then you will have 3 color option for Stadia controller: 1) Just Black, 2) White, 3) Wasabi. We have attached a photo that shows both Just Black and Wasabi controller side by side.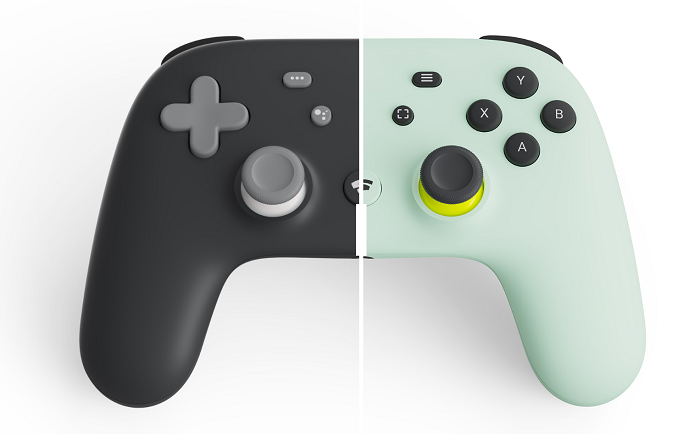 How Google Stadia Pro is better than gaming PC?
Let run the numbers to compare these 2 options. As we all know that building a gaming PC is a very complicated process because you have to find a lot of parts that will help you to get the best experience for your buck. But this process can be someone's hobby or passion so we can't include it in this comparison but we can include the total cost to build a decent gaming PC that can help you to survive next few years like 3-5 years. Also, it stops us to not grow computer graveyards.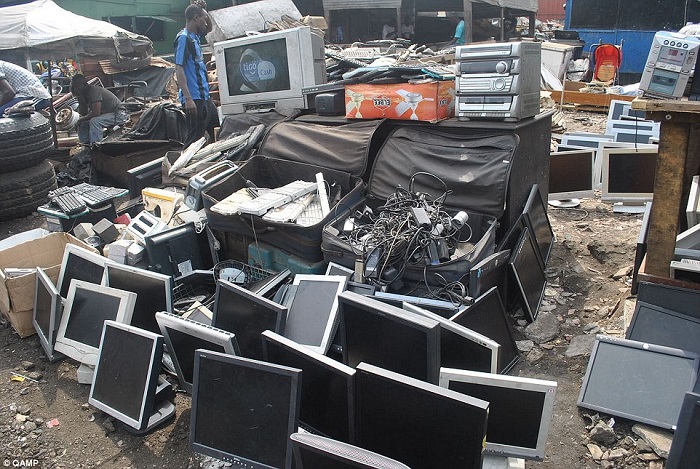 Because most of the gaming PC will be discarded by gamers after 3-5 years because the new game requires more and more powerful hardware that nobody can just add more parts to the computer tower. At one point in time, you will have to rebuild the PC from scratch itself. So we can assume that it could take from $1200-$1500 to build a PC. If you consider $12 a month for Stadia Pro then it makes up $144 for a year. For the next 5 years, the total cost will become $144 * 5 = $720.  We know that with the computer you can do other tasks too except playing just games so that's a good point to argue against Stadia pro membership.
But for hardcore gamers who use their computer for only gaming then they could get benefits from this deal. Someone could argue that after 5 years you can sell your computer and get some money back but don't forget that Stadia Pro is allowing to enjoy the same gaming experience in half price in the first place so If you are a mature person then you might be understood that it is better to invest that money somewhere safe and earn returns instead of putting them on a gaming PC and make them dead investment. Enough of boring talk now, lets concentrate more on Stadia Pro.
In both the cases either with Stadia Pro or gaming PC, you will have to buy your game by yourselves so that way they both are equal. But the benefit of Stadia Pro is that you don't have to buy expensive and highly optimized hard drive to store your games so that when you play the games, it won't leg. In Stadia Pro side, Google provides you great optimized servers where your games will be saved forever so you don't have to worry about them.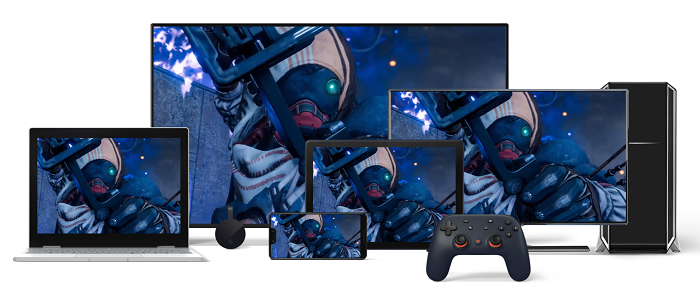 On the other side, Mobility is another thing. Let's just be frank and accept that you can't carry your gaming PC with you wherever you go but you can bring your Stadia controller and Chromecast easily assuming your target destination would have some kind of display facilities like a monitor or a TV. So just connect your ChromeCast and start playing your games. Even though Google will give you the option to play games on your mobile screen too. Just notice what different displays you can choose to play your favorite game wherever you go.
So, in general, we think that Stadia Pro is a better choice over gaming PC in any scenarios possible and it is the best bang for your every single buck. If you think otherwise then please share your thoughts in the comment section below. We will be glad to hear from you.
Thank you and Stay Techie…