Hey techies, What's Up? This is my review of the new Samsung Galaxy 7 and Galaxy S7 Edge. It will be pretty simple. So there are two phones this year 5.1 inch Galaxy S7 and a 5.5 inch Galaxy S7 Edge so no Edge Plus this time. These are the only two phones and they look familiar because well on the surface they're very similar to Galaxy S6 we already know and actually because they're so similar they've gotten really upstaged by some other announcements this week.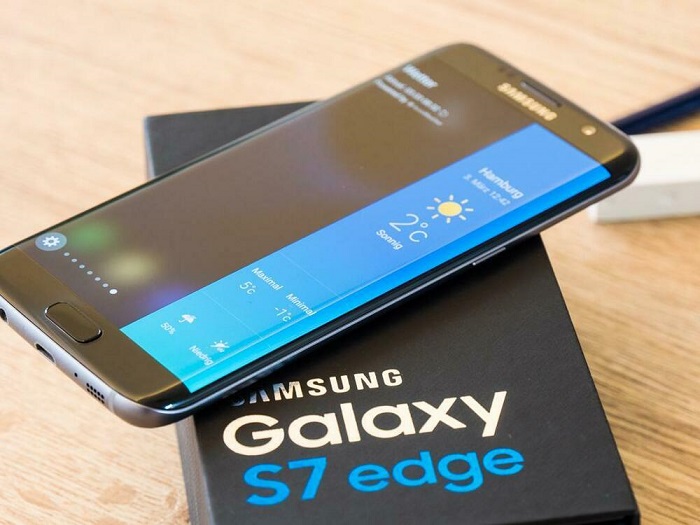 Galaxy S7 is what feels like a slightly refined improved just better Polish version of its predecessor, first of all comes in four colors (gold platinum, silver titanium, white pearl, black) and just overall fit and finish of the familiar design is a little bit better.
They curved the glass on the back now lifted with the Note 5 making it a little easier to hold and is now fully IP 68 water resistant so no worries about using your phone in the rain or near water and I will just take a second to appreciate that Samsung actually just made their new phone one millimeter thicker to accommodate a larger battery.
Thank You Samsung I haven't been preaching to a brick wall it is much appreciated also the camera bump on the back is now greatly reduced is not totally flat but it's less of a pain when the phone is on the table and the home button on the front is also more flat so just looks and feels in a subtle way like a smoother slightly refined version of the Galaxy S6 kinda like the iPhone success was the iPhone 6 think of this is like a Galaxy S6 0f S which really isn't that bad people are quick to forget that the Galaxy S6 was one of the best phones of 2015 in a lot of ways the Galaxy S7 is following up on that.
The Galaxy S6 had what was considered by most to be the best display on any smartphone Samsung is bringing that back with this really bright Super AMOLED display here in the Galaxy S7 it also has one of the best cameras in any smartphone and Samsung has again improved on this bringing a new 12 megapixel sensor with larger pixels a wider effort 1.7 aperture and some pre ridiculously fast autofocus. Of course top 10 specs again so in the US the new Snapdragon 820 chip, 4GB(gigabytes) of RAM and the latest version of Android and they brought back the microSD card slot so you have expandable storage at your fingertips again.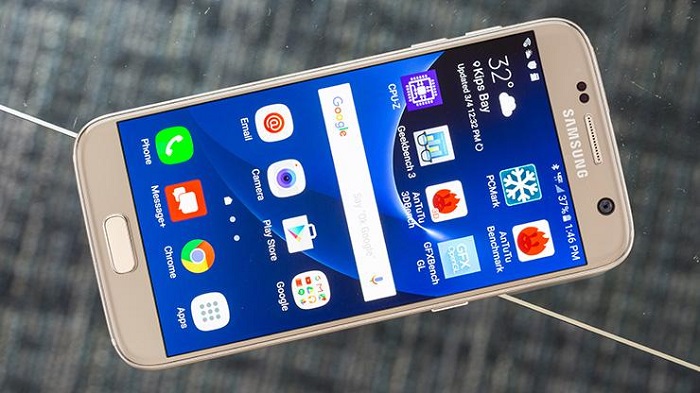 Overall it's kind of a beast now it's obviously not perfect I mean this thing is still going to be number one slippery
it's still a serious reflection and fingerprint magnet all the time and it still has that tiny speaker at the bottom, it still doesn't have an IR blaster anywhere or even USB Type C. It is still running heavy skin version of Android that people sometimes love and sometimes hate either way it'll be a familiar experience for anyone who has a Samsung smartphone recently.
So those bright super saturated colors and big round colorful icons it is actually a toned-down version compared to previous versions of the legendary touch ways but yeah there's no escaping the Samsung look, here there's a couple of
new features in this software like the always on display which will show you the time and date and battery at all times on an AMOLED display you can even choose to have like a calendar show up there or decide what information is always up and It barely use any battery since it's AMOLED.
On the Galaxy S7 edge there's also an improved edge panel which gives you way more options to put stuff over there, you can put your favorite apps, you can put custom tasks which should be really useful you can also get people and news but I really like the idea of being able to swipe in and launch a custom action within an application.
My preference between the two right now is probably going to be the Galaxy s7 edge just because of that bigger battery but also I like bigger phones anyway but yeah if you were looking for something wild and radical and crazy you probably don't want to look elsewhere maybe keep waiting for go something like the LG G5.
If you found something more about this phone and want to share with others, then feel free to post in the comment section below.
Enjoy & Stay Techie….