A laptop that specifically designed from hardware & software perspective to work while it is connected to the Internet to access and use the online resources with a very cheap price tag on it. This concludes that it would not have more onboard storage. They were like normal Windows PC and Macbooks but with different OS, Google's Chrome OS.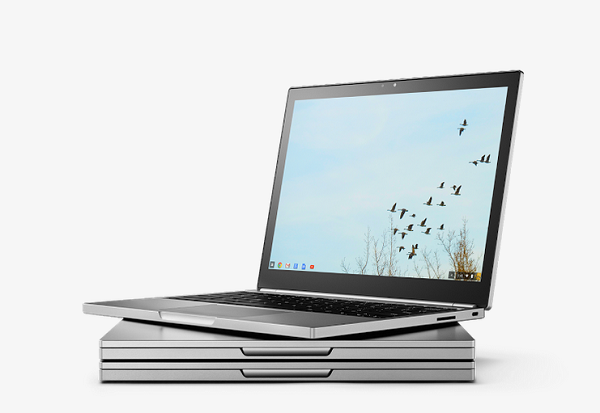 Don't make a decision right now to buy one for you because of its feature like low price, long battery life and a confusion of same UX as Windows 10. It is true that Chromebook sales topped Windows notebook sales during the summer of 2015, according to NPD research firm. Read this article to know everything about the real question, What is a Chromebook? Is it good for you or not?
This Chromebook 101 article has all the answers to your questions.
Should you buy a Chromebook?
Don't forget that Chromebooks run Chrome OS, An OS designed and developed by Google, it relies on Google's suite of application with an Internet connection. To have the best user experience you could log in as a Guest user too otherwise you would require Google credentials to log into the system.
Apps
As mentioned above Chromebook rely on Google's suite that contains app like Gmail, Google Calendar, Drive, etc. You would like it or hate it according to your preferences. Getting used to the new setup that has Google as the core would be easy for you if you are currently using Google's apps, however, if you are not familiarised with such apps then you would find it a bit challenging in the first attempt.
You can still use Microsoft Office online as free cloud version of Office, is available as a series of apps for Chromebooks,  but unfortunately, you could not use applications like Adobe Photoshop as they are not available for online use. You can use native Google Drive to open and edit your documents and spreadsheets as you would be doing in the chrome browser.
Google drive gives you the ability to create documents like text files, spreadsheets, and presentations. On the positive side, you can import all your Microsoft documents created by its application like Word, PowerPoint, etc.
You wouldn't find Adobe Photoshop in Chromebook as mentioned above but there is still a hope for the users who need photo editors, there are many photo editors application available for Chrome OS but there is not native Chrome OS app to create and edit Adobe files. GIMP is one of the open source photo editors for Chrome OS.
It is still a good idea to use Microsoft Office Online instead of transferring lots of files to Chromebook as users often find many formatting issues while doing so. Google drive allows you to save your Microsoft documents as in its own format, so you could still be able to share and edit those with appropriate Microsoft application on other machines.
Google has expanded the app store of the Chromebook by allowing users to install Android apps into their Chromebook it means that you would be able to download your favorite Android apps on your Chromebook as you do on your smart devices. But it doesn't mean that you would get all the games from Google Play store as the developers improve Android apps to be accessible by the Chromebooks.
Few laptop manufacturers have also created their own version of Chromebooks. Some of them are listed below:
Asus Chromebook Flip
Acer Chromebook R11
Google's Chromebook Pixel
It is always advantageous to buy Google's product to get all the latest update as soon as they announced instead of waiting for the manufacturer/developers to make it usable by your Chromebook.
What if you want to use it OFFLINE???
You have already configured that many of your Chromebook apps won't work if you do not have an active Internet connection as they all rely heavily on the Internet. Don't get disappointed there are few offline Chrome apps too, you can use those while you are not connected to the Internet. Google is also actively working on its native app to make them offline usable.
What about the GAMES???
Users will still able to download and play games on their Chromebook, but mind that you would not be able to play all the games available in the market. Classic games like Cut the Rope and Bejeweled are there but with a little different title as you have on Windows Machine or a Mac. You can expect more accurate titles when Android support arrives fully for Chromebook. Games like Temple Run 2, Monument Valley and Asphalt 8 will be available for Chrome OS users.
Chromebooks lacks in high-performance resources used for graphics processing so games like Metro: Last Light would work with lags because of the limited amount of resources.
Does Chromebooks has any Special Features ???
With Chrome OS you will get the personal assistant support of Google as you do have on your smart devices. So you can say "OK, Google" to launch the assistant to serve your query. The launcher is integrated with Google cards, so it would show you the information as cards at the bottom of the window.
If you have touch screen feature on your Chromebook than you will get better on-screen keyboard feel as Google has redesigned for better user experience. The keyboard also recognized your inputs and gives you options to choose from for faster typing. Very soon, Android smartphone users will get the notifications and call pop up notifications on their desktop. If you had ever synced iPhone to Macbook then you might have understood the flow and experience. Wouldn't that be fun?
How long? I mean How long battery life it would have?
On a positive note, all Chromebooks have exceptional battery life. Average of 10 hours of endurance has been noticed by Laptop Mag Battery Test, that involves continuous web surfing over Wifi and there is Dell Chromebook that runtime is 13 hours and 25 minutes.
Is it Durable ???
Don't' worry they are durable against falls, scrapes and other punishments because they are manufactured to withstand such blows.  Acer Chromebook 14 survived in the drop test from a height of 48 inches onto a plywood plank. Acer Chromebook 14 for Work and Thinkpad 13 Chromebook are MIL-STD 810G certified, it means they are passed the durability test that happens to all U.S.  Military equipment. Acer's Chromebook 14 has also the capability to survive in extreme temperatures, humidity, rain, dust, and sand. They are also good for kids as there are more chances of falling from their hands.
Security
Chromebooks that are designed for work are offers tools that IT administrators need to update, manage laptops in/out of the office. Acer Chromebook 14 also contains a security chip that offers extra security from malicious attackers to stay away from your files.
Screen Size
It totally depends on your usage and preferences, Lenovo 100s Chromebook and HP Chromebook 11 G4 are smaller and has less than 3 pound that makes them most portable devices. Chromebook with 13-inch size screen is easier to use for web surfing, completing small tasks, watching movies or playing some game in spare time. But if you think you would need a larger screen then you can choose 15 inches Chromebook, but you won't be able to find any 17 inches Chromebook in the market yet.
What specs do I need for CPU, RAM, etc???
Chromebooks are primarily used for online work so the specs aren't as important as they are considered while selecting other laptops. Quickly go through few paragraphs below to gain more knowledge about how many resources you would need in your Chromebook.
RAM
If you are a regular web user and don't expect much multitask work or high processing from your Chromebook than 2GB of RAM is fairly standard. You can choose 4GB if you are a passionate multitasker but get ready to pay $250 more for double up your RAM.
CPU
You might already know that CPU and the amount of RAM determine how smoothly your laptop works, it means you can work on your Chromebook without any lag while streaming video or playing games with few opened tabs simultaneously.
Processors developed by Intel like Intel Celeron chips gives decent performance, but if you think you would require more power than select Core i3 CPU for your Chromebook. But keep in mind that as much you try to gain work from your machine it would require more power and decrease your battery life. Acer Chromebook 13 is the only Chromebook in the market that has Nvidia Tegra K1 as the processor.
Storage Size
The least storage size of all Chromebooks are 16GB, it means that you will surely get 16 GB as a base memory but some Chromebook has an inbuilt card reader that gives you the option to expand your memory up to 64GB. The low base memory is the reason that Chromebooks are not designed to download huge sized contents. You will also get 100 GB Google Drive space on each Chromebook purchase.
Who Are You Buying It For?
If you have planned to buy a Chromebook for someone as a gift then you should need to consider their existing knowledge about the technology. New users to the computers like children or old parents would start learning how new OS works, will like the Chromebook as it is very easy and simple to understand and get used to it. Official Minecraft title is not available for Chrome OS at this moment but Android-based would be soon announced on certain Chromebooks.
Chromebooks has a very simple user interface that solves many common problems of those who are still learning, problems like where their recent download files went, how to search or view history, etc. If you think the user is comfortable with the Chrome browser then you can choose a Chromebook for the user without giving extra thought.
How Much Should I Spend?
There is a very small list to choose from if you have made up your mind to buy a Chromebook either for yourself or someone close. You could choose Lenovo 100S Chromebook that is just $199 that has 2GB of RAM and 11.6 inches HD display.
In the NUTSHELL…
In the nutshell Chromebooks are durable, capable and incredibly affordable, there are many variants to choose from according to your screen sizes and specs requirements. Microsoft is also trying very hard for low-cost laptops but if your are comfortable with Google services and wants a simple notebook then Chromebook is the perfect notebook for you without any doubt.