Have you ever wanted to listen to a particular set of songs on repeat mode, but didn't want to make a separate playlist for it? Or in some other scenario, you want to create a YouTube playlist, but don't want any of your subscribers/ followers to know about this playlist?
We have a perfect quick fix solution for you. In the steps below, you will create a custom list of all the YouTube Videos that you want to include in the new YouTube Playlist.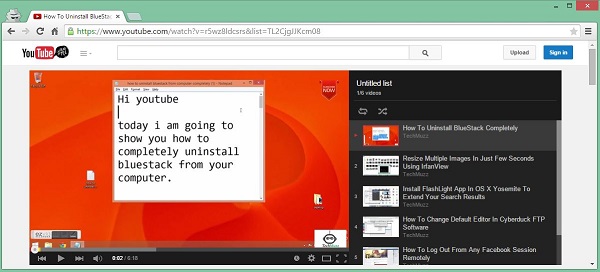 This trick allows you to add any number of videos and share them anonymously with anyone. Plus, if you are not using your personal computer for some reason, it also saves you from the risk of Logging into your YouTube channel or Google account just for the sake of listening to a playlist.
There's however a basic URL hack that will give you a chance to make "virtual" playlists on YouTube – they are similar to standard playlists aside from that they are not associated with any Google account and you can at present include or remove videos on the fly.
Steps to Create YouTube Playlists
Step 1:  All YouTube videos have a unique feature ID. It is the random string of characters you see at the end of YouTube video URLs. In the snapshot below, the string of characters "OgwGyp1sdrc"  is the unique ID of the YouTube Video.

Step 2: Now open all the videos that you would like to add in the YouTube playlist that you are creating.
For example, here are 6 YouTube video that I would like to add to a playlist:
1. https://www.youtube.com/watch?v=r5wz8ldcsrs
2. https://www.youtube.com/watch?v=7b9-CBXzxgI
3. https://www.youtube.com/watch?v=OgwGyp1sdrc
4. https://www.youtube.com/watch?v=oH63tQwNuI8
5. https://www.youtube.com/watch?v=1tUEjnB6Ork
6. https://www.youtube.com/watch?v=dAX759Z4P1E
Step 3: Now we will make the custom YouTube playlist URL. For this, we will make a connected list of these video IDs, separated by commas.
For this, I will recommend you use a Notepad or any other text editor.
Now, copy the URL given below and paste it in the notepad.
https://www.youtube.com/watch_videos?video_ids=ID1,ID2,ID3,ID4…
Step 4: This is where the magic happens. Now alll you have to do is copy the video IDs and replace them in the URL. Here is a quick example:
ID1 will become r5wz8ldcsrs (which is the unique ID of the first video that I want to add to my new YouTube Playlist):
So the final YouTube playlist URL will be look like below:
https://www.youtube.com/watch_videos?video_ids=r5wz8ldcsrs,7b9-CBXzxgI,OgwGyp1sdrc,oH63tQwNuI8,1tUEjnB6Ork,dAX759Z4P1E

This is like any other playlist on YouTube. So with, this way you can create a playlist of YouTube videos and share or embed it anywhere easily.
What next, play around and create multiple YouTube Playlists for all your moods and just save the URLs somewhere you can easily access them. Personally, I have them bookmarked in Chrome and have also saved them in my phone Notes so that I can just play my list on repeat mode anytime-anywhere.
If you face any problem while performing this trick then feel free to ask in the comment section. We will be glad to help you.
Enjoy & Stay Techie…