To list your videos in the first page of YouTube search, you have to add description to your video. The bigger the description of your video and more the number of  keywords used in the tags, the chances of your video getting listed on the first page of the search increases.
Also, it is very important to add related keywords to your videos, and the best way to jump from last to second place in the search is very easy. For this you have to copy the keywords of the video which is first in the place right now. If you don't know how to do so then check this article which will teach you how to find keywords of any YouTube video.
To change upload defaults for your YouTube channel you have to follow just a few steps.
Step 1: Open Your Channel and don't forget to Login into your account.
Step 2: Open link given below to go to Upload Defaults setting page.
Step 3: Change the setting as per your requirements and SAVE the page.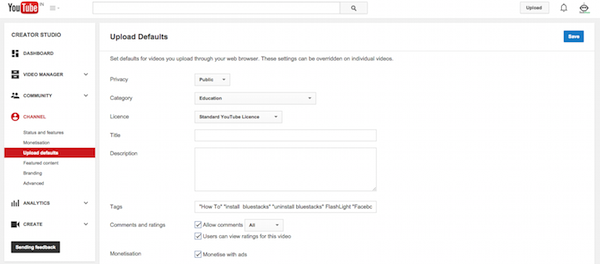 Step 4: That's all.
If you don't know why to change this setting, then let me clear it for you.
Whatever you set on this page, it will get automatically set whenever you upload any new video whether it is the Description  or Keywords. For example, You can add your personal keywords or description like your social media links in the description. So, whenever you upload the new video these settings will automatically get set for that video.