With League of Legends Path 9.7, a new summoner spell got released to live servers. BackTrack as initially announced as a shield and dash summoner spell that was specifically designed for Murder Bridge 2019. This article will help you to use League Of legends Backtrack summoner spell in your favor with some information about the spell in general.
What is Backtrack?
It the newest summoner spell. It is kind of it is own because there is no other spell like it is that gives so many advantages to the gamer. You can consider Backtrack as a Barrier with time travel features. If you think that you are not a good contributor of your team then definitely this spell will allow you to be a great team member for ARAM game type.
Backtrack was introduced as a shield that saves around 75 to 330 health points as per your player level. After 2.5 seconds you will lose the shield and it will dash you towards your fountain which will give more protection against your enemies and leave you untargetable and invulnerable.
The shield that Backtrack provides is not as good as Barrier summoner spell though. But dashing back to your territory is what makes Backtrack better than Barrier spell. It is like Zhonya's Hourglass that gives you more protection and safety against your rival team.
It has only 180 second cooldown period so that's not bad for such a good summoner spell that give you both protection and other benefits, right? Another benefit is that you can reduce that cooldown period with summoner spell cooldown reduction too. Latest update on Backtrack is that it was removed as soon as Butcher's Bridge event ended. Find more about patch history in which Backtrack was release in below image.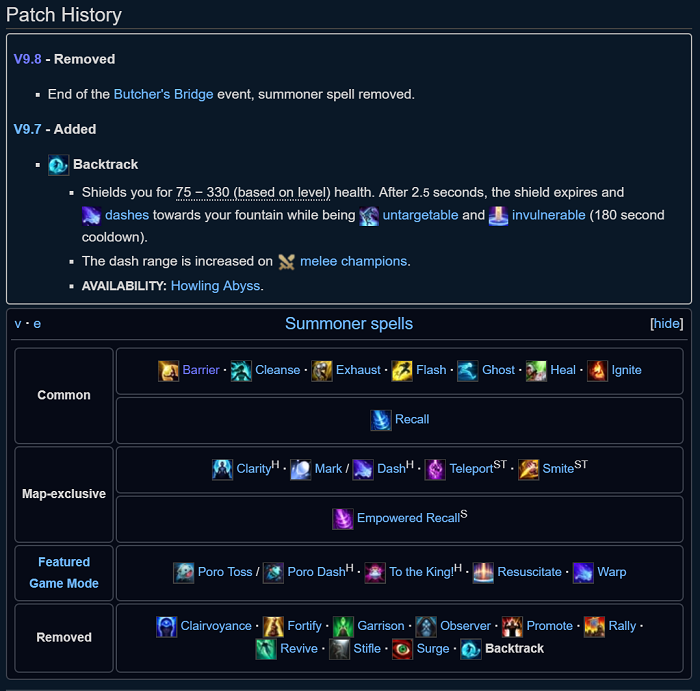 Best Backtrack usage
Different possibilities that you can use Backtrack in League of Legends game are endless. With Skarner your can get the highest score in ARAM type games. You can charge and grab your enemy with ultimate and teleport back to your fountain easily. But that does not end of the story yet you can choose Blitzcrack character if you would like and pull back your enemies with the hook. If you are a melee champion then you get higher dash range with Backtrack which is a really good feature if you would ask me.
You can try Backtrack with different champions as well and let us know if you could find a perfect match that gives better advantages then what we have mentioned above. Check this video to learn how others have used Backtrack summoner spell perfectly:
Or check this gif that shows Backtrack interactions by David O'Quinn on Gfycat.
Please share your opinions on League of Legends Backtrack spell with us in the comment section below. We will be glad to hear from you.