We are using Facebook to connect with friends and communicate with them. Facebook is also taking care of friendship between two users.The friendship between two users is the main objective for Facebook. Facebook is always in search for new tools to improve the friendship.
This helps Facebook to be popular among others platforms. Say Thanks, a tool lets users to Say Thanks to their friends by sharing a personalized video.This tutorial is to give you some information about like how to create a "Say Thank" video and share with your friends. This is a very simple tutorial. You need to select only some photos of you and your friend for whom you are making the video and then press the Share button.
Step 1: Login to your Facebook Account.
Step 2: Open the link given below to make and share video
Step 3: Select a friend from the list given on the left side. Then, Select one theme which is given below the friends list.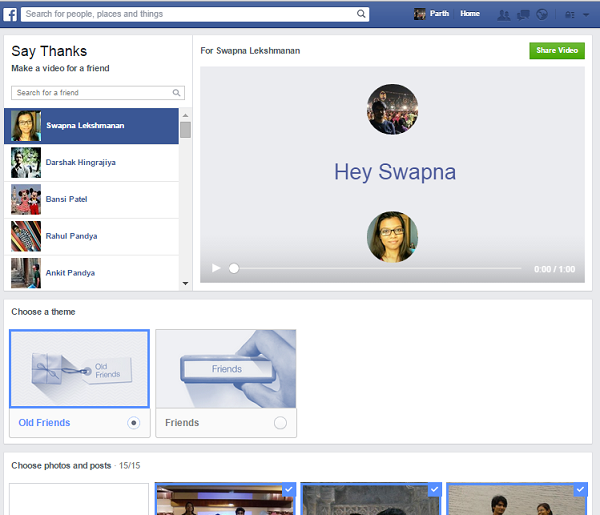 Step 4: Select 7 photos to include in the video.
Step 5: Watch the video once and check to finalize it. If it is ok then press Share Button on the right corner of the video. Facebook will allow you to enter custom text before sharing the video on your timeline. Your friend will be tagged by Facebook automatically so that he/she also get the notification.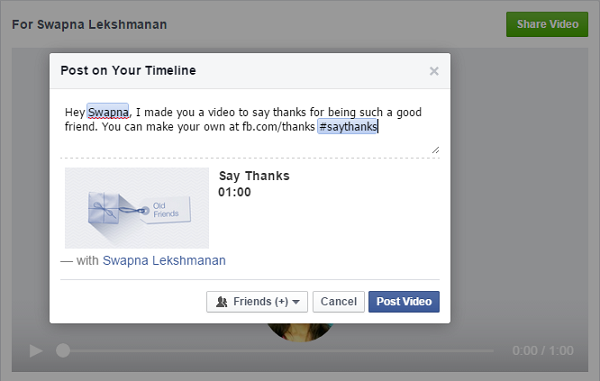 Facebook allows you to make as many videos to share on your timeline. So go ahead and try it once. Say Thank you to your friend and let them know that they have a special place in your heart.
If you face any problem, then feel free to ask in the comment section.
We will be glad to help you.
Enjoy and Stay Techie…