These days slides have become a mode of representation and presentation in almost all possible fields you can think of. Take for example offices, colleges and even schools have started teaching using the more interactive medium of teaching through slides.
But what would you do if you want to share this slide of yours in an Email (of course not as an attachment but as content) or you want to put your SlideShare on a website but in such a way that no one downloads it and copies to give his/her own presentation. Yes! you can convert your slides into a GIF image so that no one would alter it after downloading and use it claiming its own copy.
Let's see how to Convert SlideShare Into GIF
Step 1. Select the SlideShare which you want to convert into GIF animation. Copy its URL.
Step 2. Go to the website GIFDeck. Once the site loads, Click the down arrow at the bottom.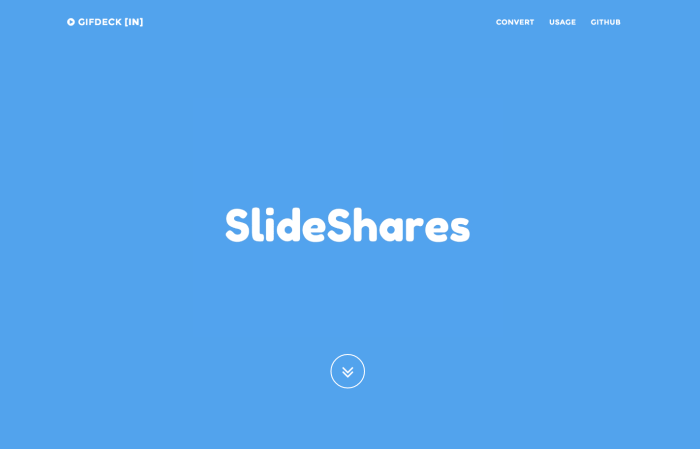 Step 3. Now Paste your SlideShare URL in the input box.
Step 4. You can Alter the settings in the way you want and then Click Submit.
Step 5. You will have to wait as making GIF by attaching slides as image one after others would take some time.
Step 6. Click on Save button given below the image when loading completes.
That's all. You have just created a GIF image from your SlideShare slides.
Found this article useful? Share with others. Have you got some other way to convert slides to GIF images? Share with us in the comments.
Enjoy and Stay Techie 😉